C2C: Preparation
We are lucky to live in Derbyshire. We could spend the rest of our lives here and never run out of new and beautiful walks. The area is not flat, but there are no real mountains. Still, there are enough ups and downs to help us prepare for the coast to coast.
A walk for us tended to be 2 or 3 miles, 4 or 5 at the most – and we knew we needed to 'up our game' for the coast to coast. With busy lives – Tom with his job in Natural England, me with my teaching commitments and the boys heavily involved with music, particularly in the summer term, there was less time to prepare for the walk than we would have liked. On top of that my Mum was ill, and I was spending more time travelling to Northern Ireland.
Still we managed to fit some ten mile walks in. Then in November we did a 17 mile sponsored walk for the British Heart Foundation in driving rain, wind and sleet. We felt exhausted at the end of the walk and realised we needed to up the anti.
At Easter we flew out to Switzerland to stay with friends in Basel. We did a couple of long walks around the Swiss/German border, and walked part of the Pilgrim's Way around Lake Thun.

10 mile walk from Switzerland to Germany with friends.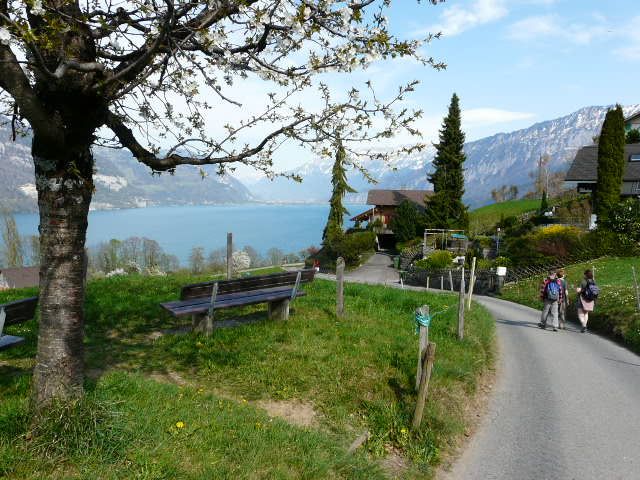 Walking around Lake Thun at Easter
Back in Derbyshire we built up to 16 miles, followed by 12 miles over a weekend, with plans to do more back-to-back long walks in the hillier dark peak. But then disaster struck - I found I was in complete agony with my knee coming off the hills. Walking was put on hold, or restricted to flat walks by rivers and canals. Hardly the way to get fit for a long distance walk - but I had been told I shouldn't walk on a damaged knee.
Then a few days before the walk, my sister phoned to say her little girl (who I often look after) possibly had swine flu!
It started to feel that the walk was doomed before we even started. With the threat of a dodgy knee and swine flu hanging over our heads we jumped on a train, crossed all our fingers and toes, and headed up to St Bees...