Day 14: Ingleby Arncliffe to Blakey Ridge - 22 miles
Happiness
...The sky is taking on light
though the moon still hangs pale over the water.
Such beauty that for a minute
death and ambition, even love,
doesn't enter into this.
Happiness. It comes on
unexpectedly. And goes beyond, really,
any early morning talk about it.
From Raymond Carver
Life sometimes throws surprises at you. I groan as we head steeply uphill towards the wood under the weight of yet another cooked breakfast. It is early morning and the sun is already hot. Then we are plunged into woods lined with pine logs. It is dark and cool in there, and exudes an air of serenity. Suddenly I feel at one with my world in a way I haven't felt since we left the Lakes. After a while we emerge into the sunlight. A moon still hangs palely in the sky. The Vale of Mowbray stretches out at our feet, and the Yorkshire Dales beyond it. It feels vaguely autumnal. A cooling in the air? The poignant song of a solitary bird somewhere on the moors?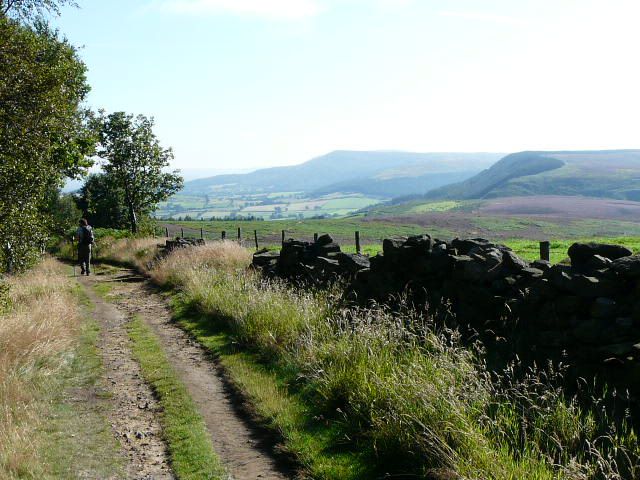 The Cleveland Hills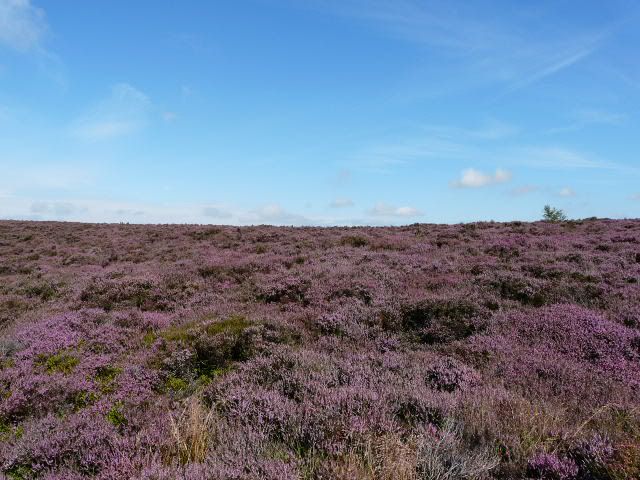 Heather in full glory
As we walk, more and more vistas open out in front of us. Powder blue skies are dappled with cotton wool clouds, contrasting with deep purple heather, with Rosebery Topping like a squished cake on the horizon. Then we catch our first glimpse of the North Sea. It is an emotional moment.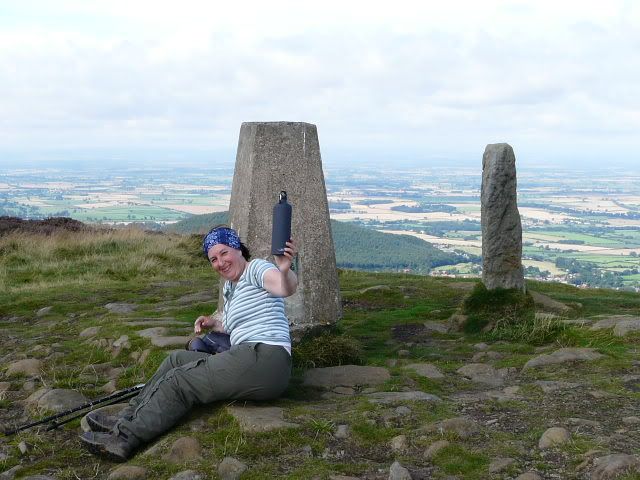 Cheers!

It doesn't matter that we are steeply climbing hills to find ourselves dropping much of the height we have gained. It is GREAT to be up high again. We are at Clay Bank Top and are marching on. We are unstoppable. Over the last rise and we find ourselves on a wide dismantled railway, twisting and cutting a long five miles through the moors.
Behind us are two men we had walked with earlier in the day. They are doing this kind of distance every day and struggle with badly blistered feet. My MP3 chooses Van Morrison for my last mile. I listen to the gorgeous 'Coney Island' - far away in my homeland. 'On and on over the hill' he says in his broad Northern Irish accent. 'Indeed' I think. But Van's music is a bit chilled for the last march. I need something with a bit of tempo. Right on cue he provides me with marching music – The girls of Belfast City, descending into 'The Sash my father wore'. Whoa, Mr Morrison - I have never been into the 'glorious 12th (July that is, not August), or the marching season back home, but for once I am happy to march along to the band. Someone give me a flute...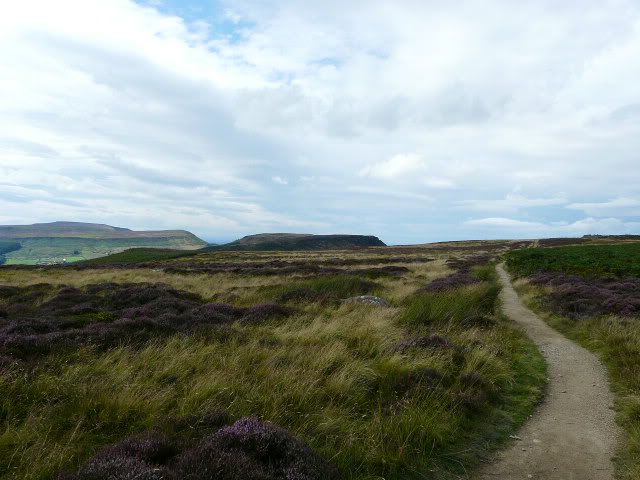 The long and winding road
Then we see Blakey Ridge on the horizon. The two walkers behind catch up as we reach the inn. They are impressed with the pace the boys have maintained. I don't like to tell them – I'm the slow one in this outfit.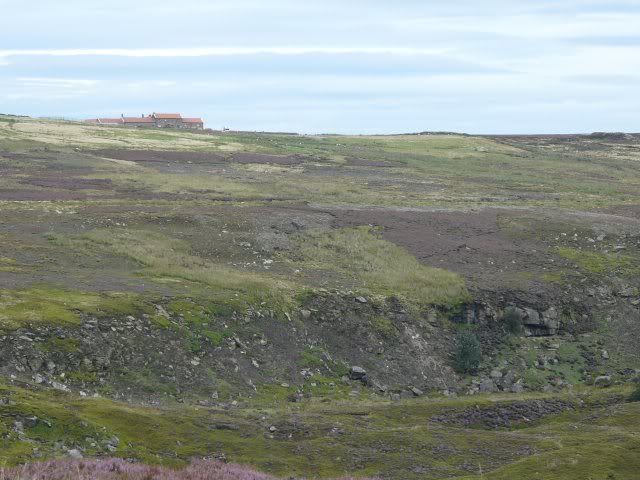 Oh what a glorious sight - Blakey Ridge, 22 miles later
Our accommodation is magnificent. Ceiling to floor glass across the wall with panoramic views of the moors sweeping across the window. We head across the road to the Lion Inn, jammed to the rafters with C2C walkers. They provide portions of food more than adequate for hungry walkers.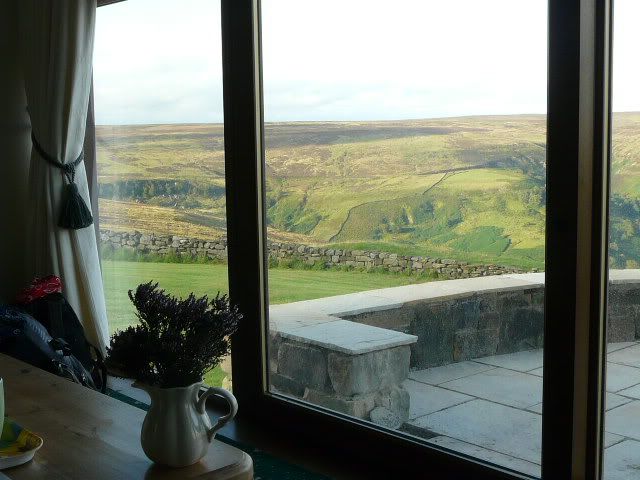 A room with a view
I spot a group of 6 walkers who had been in the Blue Bell Inn back in Ingleby Cross. Funny how people come and go, popping up again unexpectedly. One of the party has a leg in plaster cast. Turns out she had broken her ankle in two places on her fourth day – it was her that had been airlifted way back on Honister Pass. Poor soul. We have a good evening in the Lion Inn, chatting to various walkers we have met on our walk. Two Australian girls congratulate the boys on their walking. I am more than a little bit proud of them myself.
Then disaster strikes. Patrick, like Tom, has a penchant for collecting stones. Somewhere back on the walk, I have chucked a few stones weighing down his pockets – including the pebble he had chosen in St Bees. My name is mud!