Day 3: Ennerdale (YH) to Borrowdale - 12 miles
For the children

The rising hills,the slopes
of statistics
lie before us,
the steep climb
of everything, going up
up, as we all go down...
...Stay together
learn the flowers
go light
From Gary Snyder|
I hope the children retain something fundamental from this walk long after it has become no more than a faded memory. Am I being stupidly sentimental? Unrealistic? I am not sure what it is I would like them to take from this walk...an ability to dream big? A sense that they can achieve? A different perspective on time and place? A greater sense of their place in the scheme of things? Values that extend beyond the immediacy of our material world?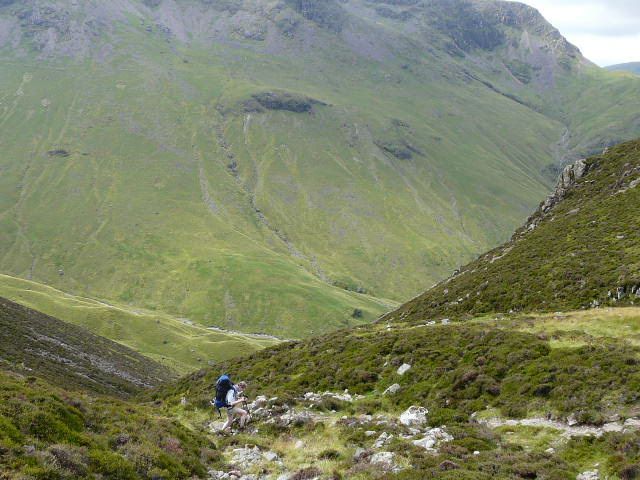 Peter catches up at Loft Beck
At the top of Loft Beck we see the land fall away to the sea far, far on the horizon. We can roughly see the route we have travelled. We would have been invisible dots on this sweeping landscape. There we had been, travelling painfully slowly across the days, like tiny ants on the earth. I feel more connected to the rhythms of my ancestors now, more connected to the land that grounds me, more connected to the time that binds me. You see the world very differently when your pace has been slowed right down!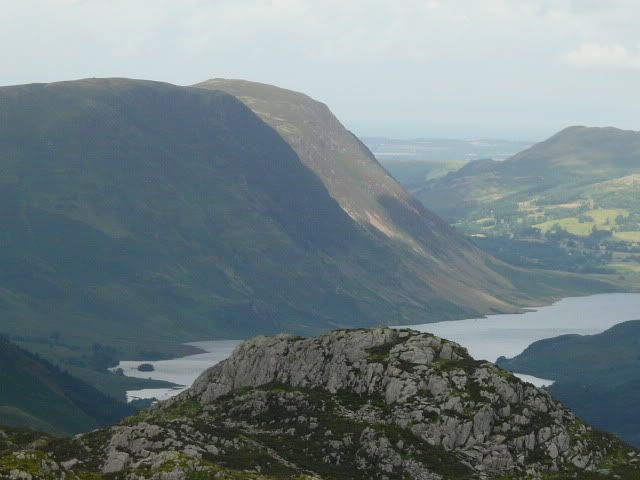 View down Buttermere from Brandreth Fence
Up on the col, Peter has caught up with us. He veers off to the left as we veer to the right to follow the cairns. After a while he catches sight of us and crosses over the hillside to walk down to Honister Mine Museum with us. He leaves us there to down pasties and tea in the visitor's centre. Outside again, we see a rescue helicopter hovering overhead. I wonder who has been stranded on the hillside. There but for the grace of God go I...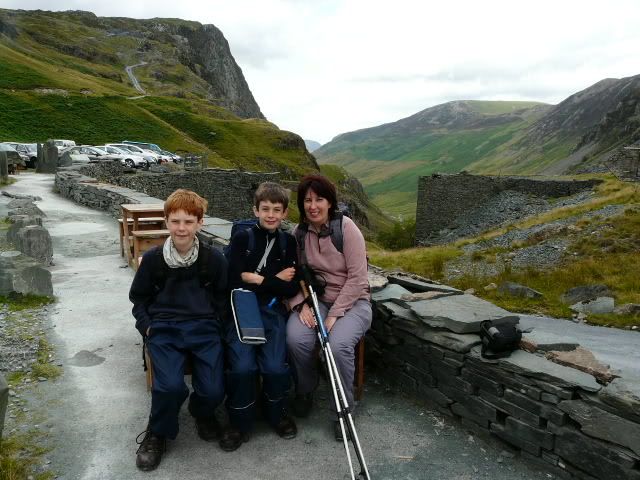 Honister slate mine
Through Seatoller, and it's that last gruelling mile. My MP3 chooses Duke Special's orchestral version of 'Songs from the deep forest. 'I could go to London,' he chants on 'Salvation Tambourine'. I'm feeling good. I could go right across England. 'I could go.' (Fingers crossed and a healthy knee).
At Borrowdale, we catch up with Peter and Tom again. Tom had mistakenly taken a route that I had previously gazed at in horror (thinking it was Loft Beck). Practically vertical at the top, it took him into the wrong valley and added miles to his journey. His leg is now injured and his heels are in shreds. I wonder if he will make it any further.