Day 5: Grasmere to Patterdale - 9 miles
Mountains

And certain evenings, something in the balance
falls to the dewpoint where our minds condense
and then inslides itself between moments
and spills the heart from its circumference;
and this is when the moon matchlessly opens
and you can feel by instinct in the distance
the bigger mountains hidden by the mountains
like intentions among suggestions.
From Alice Oswald
I curse the Lakeland Mountains. Deceitful, monstrous lumps. They mock you with their false tops as you plod up steep steps; they laugh in your face as you see the mountain rise once again ahead of you. Then on the col, your anger melts, as you fall in love, once again, with their beauty.
In front of us lies the beautiful GrisedaleTarn. We soak in its deep loveliness, and right on cue, Peter appears from behind. 'We must stop meeting like this,' I joke.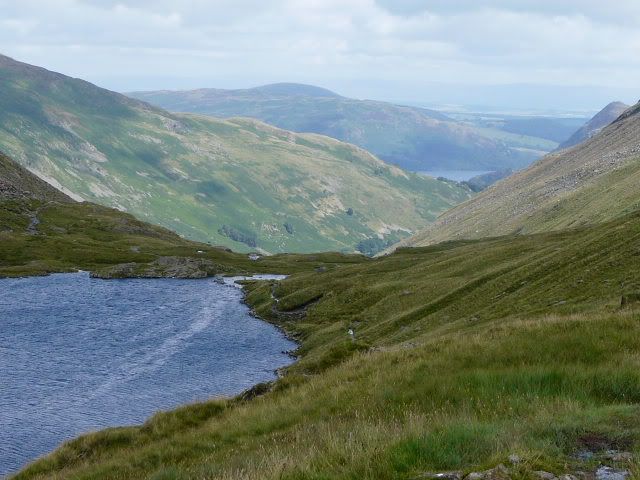 Grisedale Tarn and our first view of the Pennines in distance
Here there are choices to be made. Now let's see. We have the challenging Helvellyn that takes you along Striding (or precipitous) Edge. Mr Wainwright would clearly like us to take us on that one...but no, not today. Or there is the (slightly less challenging) St Sunday Crag alternative. Well, yes... Actually why don't we just head straight down the valley. After all we have nine miles to put behind us. Even the more adventurous Peter has the good sense to agree and heads down the valley with us.
Soon we have views of the beautiful Ullswater. We leave Peter who is staying two nights in Glenridding and head for Patterdale. A hearty pub meal under our belts, we head on to our B & B, a mile further out of the village. My MP3 has chosen the Divine Comedy once again, this time Victory for the Comic Muse to help me through the last lap.
At last we reach our sheep farm, spilling wool and dogs from every direction.