Day 6: Patterdale to Shap - 16 miles
Stopping by Woods...

The woods are lovely, dark and deep,
But I have promises to keep,
And miles to go before I sleep,
And miles to go before I sleep.
From Robert Frost
We have our first sixteen mile section in front of us today so we are up early. The path up and out of Patterdale is a wall in front of me. Not good on a cooked breakfast. Once again there is good visibility on top, albeit with a menacing darkness and a threatening wind. There is a dark beauty up here. The hills echo each other far into the distance, until they are but faded smudges.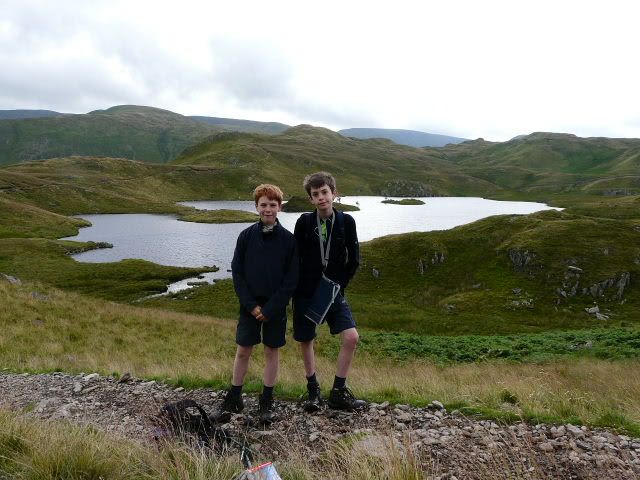 Angle Tarn
Tom is somewhat concerned because his map and instructions don't correspond to the landscape around him. A lone walker confirms that we are on the right path. More climbing and we reach Kidsty Pike. The couple who had breakfasted with us on the sheep farm appear from behind us (why does this always happen to us?), then disappear off the mountain.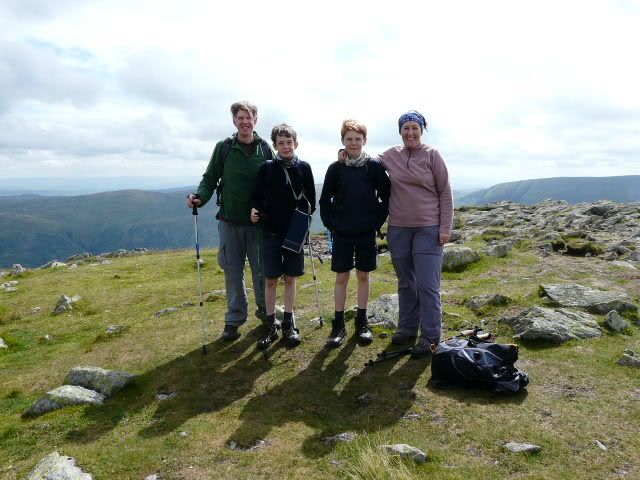 On top of the C2C - Kidsty Pike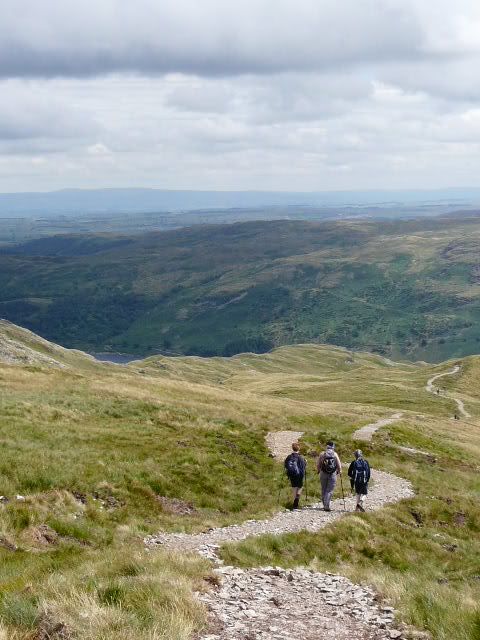 Downhill all the way, now...
Soon we reach Haweswater, and effectively the end of the Lake District. A bitter sweet moment. The end of the most dramatic part of the walk, but also an end to the most challenging walking.
By the water's edge we meet two men walking in the opposite direction. It is already afternoon, and to our horror they tell us they have been on the road from Shap, our destination, from half eight that morning. We have much to do then.
One of the men shouts, 'Taking the children for a walk?' 'Yes,' I reply right on cue. 'Just across England'. The man with Asian features and a ponytail could have walked right out of the 'Karate Kid'. 'What a wonderful gift that is to give your children,' he says soberly.
'They are fitter and faster than me,' I laugh. 'Oh yes. They have health, youth and time. Look back and treasure these gifts, young man,' he advises Jamie.

The woods are lovely, dark and deep, but....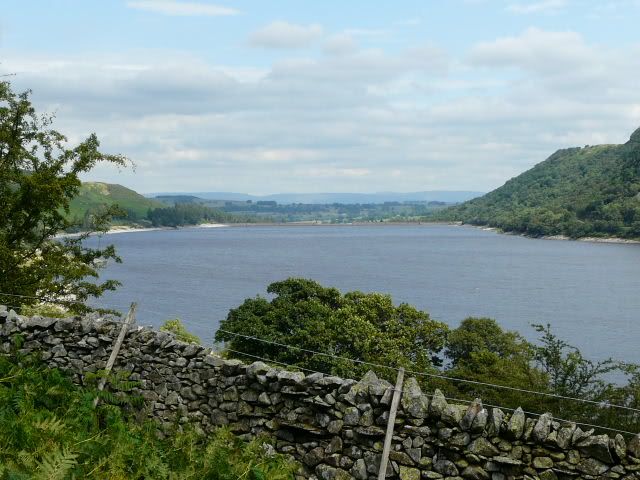 ...I have miles to go before I sleep!
It is a long, long trudge along the lake in the heat of the afternoon. We want to linger in the cool of the woods, but we have an even longer trudge through the fields to Shap. As the day wears on the sun turns to persistent rain. I listen to Mozart's Mass in C minor. Music that is beyond description in terms of its beauty, power and emotion. It would have been more fitting up on the harsh mountains than in this pretty riverside valley. We arrive in Shap rather bedraggled to find the proprietor of our B & B has gone to a funeral. All is forgiven when she arrives home, ushers us into a cosy interior that contrasts sharply to the ugly Shap, and leaves me to soak in a deep, hot bath.

Top Tip of the Day: Don't skip a map in your guidebook. It is rather confusing.