Day 7: Shap to Orton - 8 miles
Weathers
This is the weather the shepherd shuns,
And so do I;
When beeches drip in browns and duns,
And thresh, and ply;
And hill-hid tides throb, throe on throe,
And meadow rivulets overflow,
And drops on gate-bars hang in a row,
And rooks in families homeward go,
And so do I.
Thomas Hardy
Imagine the weatherman sits down to negotiate with us. We are not interested in rain for the duration of the trip, but the weatherman is saying, 'Now look here. Gardeners need water for their flowers. Farmers need rain for their crops. You must choose one day of continuous rain'. I would choose this day. It's a short walk on easy terrain.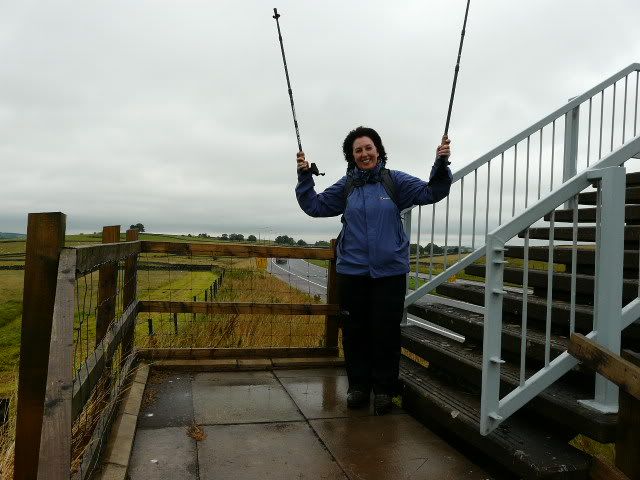 Landmark moment - the M6
And so it is. We head out of the unattractive Shap, hit the railway line that had taken us to St Bees a week earlier and head towards the M6 and the even less attractive quarries. If Mr Wainwright can find a rise, he will. I am sure he has managed to locate the only moor on the whole Vale of Eden (Well, maybe this is a slight exaggeration). Eventually we head down 'Death Valley' . We find dead rabbits at every turn. Intestines, liver and kidneys are strewn across the path. Even the foxes know better than to eat offal!
It is truly dirty weather. On the plus side, the rain drives us on. We crack a good pace and soon find ourselves heading down into Orton. This time our B & B proprietor has gone off to play Rummikub at Tebay. It must be the highlight of her week as she had warned me months ago when I had booked.
We head to the pub for a bowl of hot soup, and spend the afternoon steaming dry. In the evening we meet a couple who are doing part of the coast to coast. The man had fallen into a bog in the Lakes up to his waist to the amusement of his partner. I am smugly thinking 'inexperienced walker'. Pride comes before a fall...
Quote of the Day: Jamie (fed up with the rain) – 'Where is Mr Philosophy man (Karate Kid mentor) when you need him!'
Album of the Day: The Eagles, Hotel California (listened to in the safety of a dry room).