Day 9: Kirkby Stephen to Keld - 12 miles
Moorland
It is beautiful and still;
the air rarified
as the interior of a cathedral
From R.S.Thomas
It is a beautiful day. We rise out of Kirkby Stephen and soon find ourselves up on the moors and approaching the Nine Standards Rigg. The Nine Standards are made up of strange but striking rock constructions that include a bell shape, a beehive, a pyramid, a cone and a cube. Who had built them? What were they for? What do they mean? Nobody apparently knows.

Worth the climb!
On top, the skies are blue, and we can see for miles, and miles and miles... The Vale of Eden stretches out below our feet, the Lake hills beyond, and in the other direction, the Pennines. Glorious, glorious, glorious.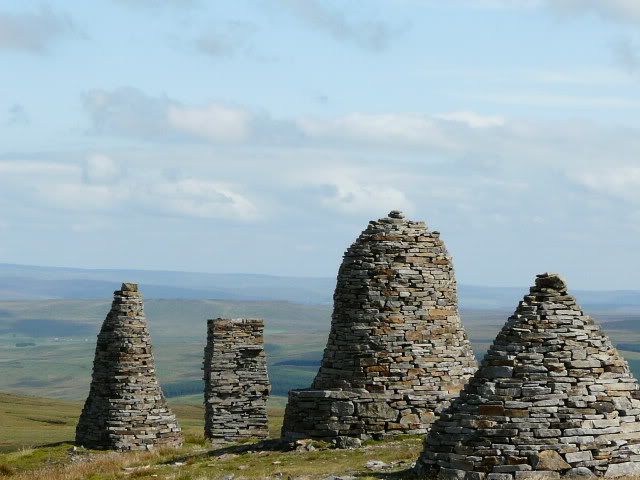 Nine Standards Rigg
The ground beneath our feet is firm. What is all the fuss about bogs on the Nine Standards? We take the blue route although the first guide poles have been removed to discourage walkers from this badly eroded route. The ground is very wet and boggy now. We have to watch our feet and choose our route through the bogs carefully.
One minute I am stepping on to a plank; the next I am in the bog up to my knees. I try to pull myself out of the peat – but I am going nowhere. Tom tries to drag me out, but the only thing that is threatening to move – is my arm from its socket. I'm screaming, to my eternal shame, hysterically. The children are hysterical too – but they are hysterical with laughter. Should I climb out of my boots? Not a good idea, Helen. Tom is left with one course of action – he digs me out of the bog with his bare hands. Oh, the shame.
I feel exhausted after this experience, and although it is downhill from now on in, it's harder work, picking our way through the bogs than ascending the Nine Standards. It is with great relief that we reach Raven Seat Farm and a cream tea from the now 'famous' Amanda (courtesy of Julia Bradbury's TV programme on the Coast to Coast). Then it is downhill all the way. The break has given me a second wind and I fly down the beautiful Swaledale, not even needing a music fix. Sad to see so many abandoned farmsteads and barns in this remote but beautiful valley. Soon we are in Keld. I soak in a hot bath, and remove a chunk of moor I have managed to bring down with me!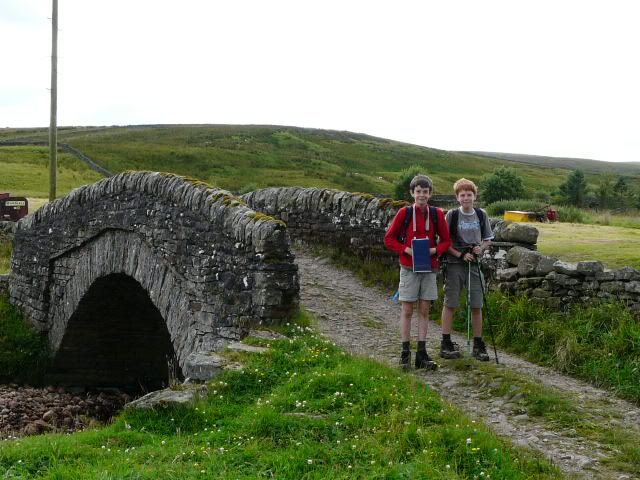 Raven Seat Farm
It is Patrick's birthday. He is happy with the three course meal that has been served up to him in our B & B – followed by a birthday cake – albeit with 11 candles instead of 12 (Well, who's counting when you have a gooey, chocolate cake set in front of you).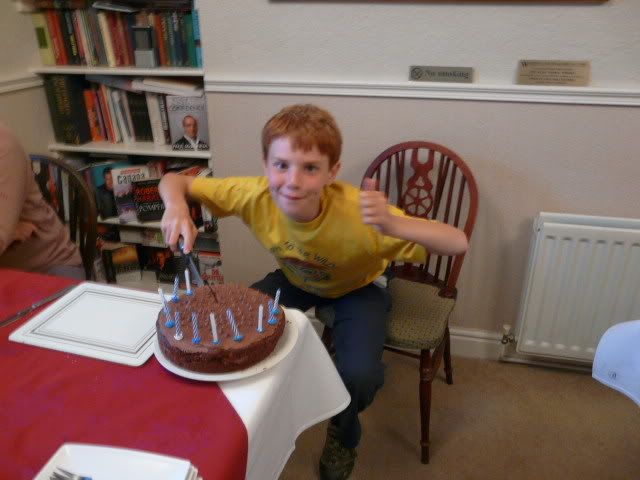 Birthday Cake at Butt House
Quote of the Day: Tom – 'Well, at least you've managed to get a good colour on your legs!' (Reference to white legs now covered in dark brown peat).