Day 18: Finished! - 0 miles
My Way
...I did it to go out in a blaze of glory
I did it to make them listen to my side of the story
I only did it to get attention
I did it to get an honourable mention
I did it to put an end to it all
I did it for no reason at all
...But I did it
I did it
I did it
Yes I did
From Liz Lochhead
Why do the coast to coast? After all it is a very long walk. People do give up - but all that it required from me really, was to put one foot in front of the other! I didn't break any records. I didn't improve the lot of my fellow humans. I can't speak for the rest of my family (they good-humouredly went along with my mad idea) – I did it for me. Don't ask me why. I set myself a goal. I never thought of giving up – not even when my feet ached. It feels like an achievement. It feels like I have succeeded. There were days when I loved walking. There were days, quite frankly, when I never wanted to see a pair of walking boots again. Would I do it again? Na – I know what's round the next corner.
We had one day at Robin Hood's Bay to sit by the sea, hunt for fossils, drink coffee in the sunshine. Walk nowhere... do what normal families do on holiday...

A normal family beach holiday...
There was one last job to do, however. We took our pebbles, collected at St Bees, down to the sea. Tom and Jamie threw theirs far into the ocean. Patrick made a boat for his pebble (donated from me) and set it to sail across the North Sea in a makeshift boat, with a lollypop mast and a leaf sail, securing his pebble with reed. Who knows where it will end up?

Throwing the stone

Jamie too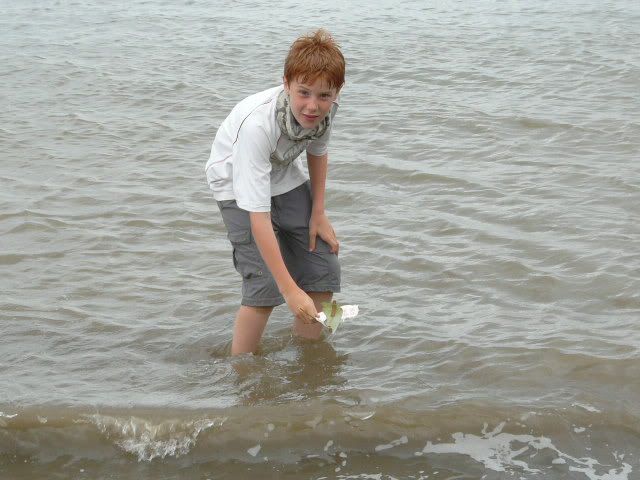 Patrick floats his boat (and stone) to sea
As for Tom's - I do happen to know what became of his. Later that day, at low tide, Tom returned to the beach to find his pebble nestled amongst the others on the shore – a geological alien. He picked it up and placed it deep in his pocket.

RHB
And all that remains for me to do is to thank Tom, Jamie and Patrick. Without Tom's expert map reading (the odd mistake apart), I probably would have ended up in Cornwall. And thanks to Jamie and Patrick, who walked cheerfully across England, never complaining, never once grumbling (Patrick's bad day excepted).I am hugely proud of them.

Thank you